Uniform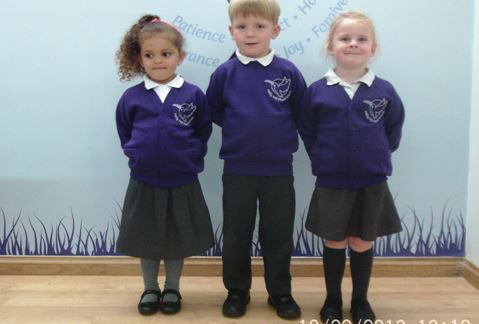 Sweatshirts and Cardigans with the school logo, can be purchased from Colliers or Kids Essentials in Northfield.
School Uniform consists of:
PURPLE: purple and white check dresses, T-shirts, sweatshirts/sweat cardigans with official logo
WHITE: shirts, blouses, T-shirts, socks, tights
GREY: skirts, pinafore dresses, trousers, socks, tights
BLACK: shorts, shoes
Children need to wear the appropriate clothing for PE. This is:
A plain white T-shirt
Plain black shorts (not Bermuda shorts)
Black pumps
Kids Essentials Kids Essentials
762 Bristol Road South 160 New Road
Northfield Rubery
Birmingham Birmingham
B31 2NN B45 9JA
Pre-loved uniform is also available from Rubery Swop Shop.
You can contact them via email: ruberyswopshop@outlook.com or via facebook: @ruberyswopshop
Holly Hill Church School, New Street, Rubery, Rednal, Birmingham B45 0EU | 0121 675 8700